This is Part Two of a series of fanmixes of what would be on the Cullens' radios/playlists.
I can so imagine these blasting out of Rosalie's car stereo...
[1 fanmix -25 songs]
Preview: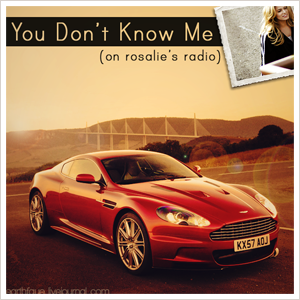 .ZIP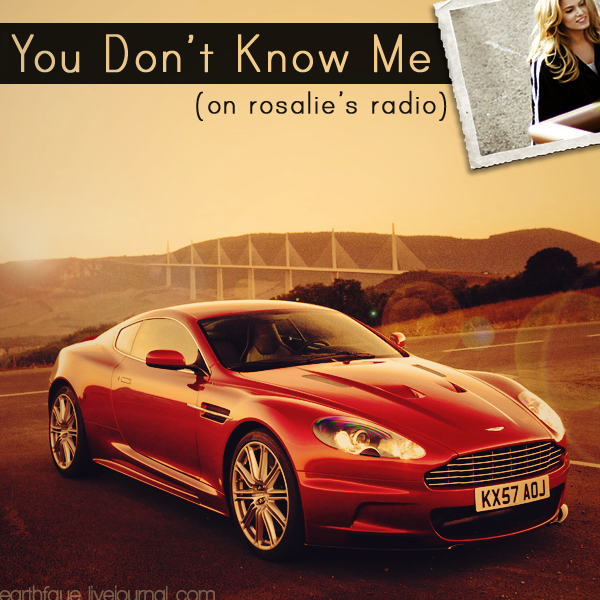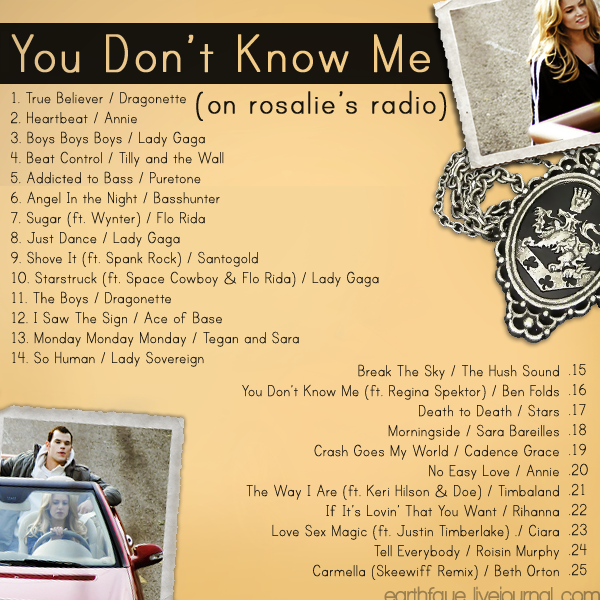 1. True Believer / Dragonette :

"I don't play well with the other kids
They know that I'm dangerous
It's evident, I'm different
My punishment is eminent

They tell me that I'm no good
They say worse,
That I've got a curse,
And I know that it's true

But you, you make me better
You give me pleasure
It's just your effect on me, oooo
You make me sweeter
You give me fever
Now I'm a believer "

2. Heartbeat / Annie : Wishful thinking XD

"Feel my heartbeat
drumming to the beat
love the symphony

Feel my heartbeat
drumming to the beat
love the melody
come see"

3. Boys Boys Boys / Lady Gaga :

"Baby is a bad boy 

With some retro sneakers

Let's go see The Killers 

And make out in the bleachers

I like you a lot lot

Think you're really hot hot


Let's go to the party

Heard our buddies' the DJ

Don`t forget my lipstick,

I left it in your ashtray

I like you a lot lot

All we want is hot hot"

4. Beat Control :

"All these people talking 'bout you now
They don't make no difference, no
We always have the rhythm here
In our blood and in our souls
So let the beat control you now
There's nothing here to care about
Just you and me, let's break it down
So follow me, I'll show you how "

5. Addicted to Bass / Puretone :

"I got two pale hands up against the window pane

I'm shaking with the heat of my need again

It starts in my feet, reverbs up to my brain

There's nothing I can do to reverse the gain"

6. Angel In The Night / Basshunter :

"Even if I don't know where to start
Even if my love is tearing me apart
I just know that you and me
We were always meant to be"

7. Sugar (ft. Wynter) / Flo Rida :

"You like my sugar, my sugar.

You so sweet, so sweet.

Like my candy, my candy

You so sweet, so sweet.

I got a good appetite with you on me, on me.

I'll wrap you out of them clothes.

You my treat, my treat."

8. Just Dance / Lady Gaga :

"Control your poison babe
Roses have thorns they say.
And we're all gettin' hosed tonight.
What's going on on the floor?
I love this record baby, but I can't see straight anymore.
Keep it cool what's the name of this club?
I can't remember but it's alright, alright."

9. Shove It (ft. Spank Rock) / Santogold :

"War tactics they make me sick
Reel your heart in run away with it
Smile in your face, undermine your back
Got guns for the strength they lack
So if you know another way
You can't look the other way
If you know another way,
Tell them so right to their face

We think you're a joke
Shove your hope where it don't shine (4x)"

10. Starstruck (ft. Space Cowboy & Flo Rida) / Lady Gaga :

"Put your hands on my waist, pull the fader

Run it back with original flavor

Queue me up, I'm the twelve on your table


I'm so starstruck


So starstruck, baby could you blow my heart up?

I'm so starstruck

Baby could you blow my heart up?

I'm so starstruck"

11. The Boys / Dragonette :

"Baby, baby,
I've got a lot of love to give
But lately, lately
I'm over-subscribed with relationships
But you got, you got,
a special something I ain't seen before
But I must warn ya,
That I can't but help but play around, for sure
For sure, for sure"

12. I Saw The Sign / Ace of Base :

"I got a new life
You would hardly recognize me
Im so glad
How can a person like me care for you
Why do I bother
When youre not the one for me
Is enough enough

I saw the sign and it opened up my eyes
I saw the sign
Life is demanding without understanding
I saw the sign and it opened up my eyes
I saw the sign"

13. Monday Monday Monday / Tegan and Sara :

"This week or last week
I don't really care about it anymore
I write myself this later
I tell myself you let me go
Without me
Oh what's wrong with you
Monday Monday Monday
Monday Monday Monday"

14. So Human / Lady Sovereign :

"
I'm so human, yeah, yeah

It's okay, yeah, yeah

For me to feel this way, yeah, yeah
"

15. Break The Sky / The Hush Sound :

"Weight of days lost holding you down
You'll look for me, but I won't be found.
The bluebirds flutter in my chest,
Oh, they want to sing..
You'll have to break me open to hear anything"

16. You Don't Know Me (ft. Regina Spektor) / Ben Folds :

"I wanna ask you -
Do you ever sit and wonder,
It's so strange
That we could be together for
So long, and never know, never care
What goes on in the other one's head?

Things I've felt but I've never said
You said things that I never said
So I'll say something that I should have said long ago:

(You don't know me)
You don't know me at all"

17. Death to Death / Stars :

"so tired waiting for the end to come 

fully dead already but forever young

hello, my dearest father its your favourite son 

theres some things that im regretting 



i am destroyer i am lover, i am destroyer i am lover. i love one thing, destroy the other. i am destroyer, i am lover. "

18. Morningside / Sara Bareilles :

"I'm not scared of you now
Or so i say
There's no reason to run
Although i may
I'm not as sure as i seem
This much i know
What does it mean you leave and i follow

I could try to forget what you do when i let you get
Through to me but then you do it over again
I could rage like a fire and you'd bring rain i desire
Til you get to me on my morningside"

19. Crash Goes My World / Cadence Grace :

"I like to crank the volume

I love the sound of breaking glass

Crash goes my world

I look back at the future

And i look forward to the big blast

Crash goes my world"

20. No Easy Love / Annie :

"There is no easy love
The one I'm thinking of
I miss you every day

Please just stay around
You are my beat, my sound
My light, my destiny"

21. The Way I Are (ft. keri Hilson & Doe) / Timbaland :

"I'm about to strip and I want it quick
Can you handle me the way I are?
I don't need the cheese or the car keys
Boy I like you just the way you are
And let me see ya strip, you could get a tip
'Cause I like"

22. If It's Lovin' That You Want / Rihanna :

"I want to let you know
That you don't have to go
Don't wonder no more
What I think about you

If it's loving that you want
Then you should make me your girl, your girl
If it's loving that you need
Baby come and share my world, share my world"

23. Love Sex Magic (ft. Justin Timberlake) / Ciara :

"Your touch is so magic to me
The strangest things can happen
The way that you react to me
I wanna do something you can't imagine
Imagine if there was a million me's talking sexy to you like that
You think you can handle, boy
If I give you my squeeze and I need you to push it right back"

24. Tell Everybody / Roisin Murphy :

"Hey, where'd you learn to fly?

So you shoot your rocket up into the sky

Hey, I heard you set the pace

I never thought I'd see you back in this old place

Are you here to stay?

I never thought I'd see the day

Maybe in another lifetime

I'd see you walking away from me

Tell everybody you're my baby

Tell everybody we're not fading

Tell everybody no ifs or maybes

No, no, no"

25. Carmella (Four Tet Remix) / Beth Orton :

"There's something kinda funny 'bout a man making money
Off a blonde haired blue eyed girl
Carmell, where you gonna run to
When the sky comes crashing in on you
Slow Down, who you gonna turn to
When there's nothing left for you to prove
And I can't control myself
And I won't be no one else
No I can't control myself
And I wouldn't want to be anywhere else
Is it true what they say about you, do you know it too?"





.ZIP



Credit: car photo by Allen Qu at flickr.com and Twilight cast photos by Amy Howe.
Current Music: My One And Only Thrill -Melody Gardot