This is Part Three of a series of fanmixes of what would be on the Cullens' radios/playlists.
As Alice has a thing for fashion, this fanmix is inspired by various songs I have heard at fashion shows, and what I would consider Alice to think of as 'music education'. Basically it means that this fanmix contains songs that are a little bit unconventional, but still work really well when blasted out of a yellow porsche.
[1 fanmix -25 songs]
Preview: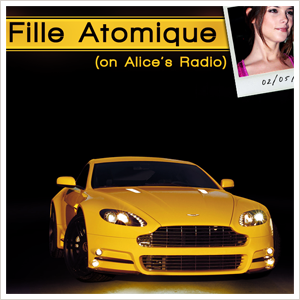 .ZIP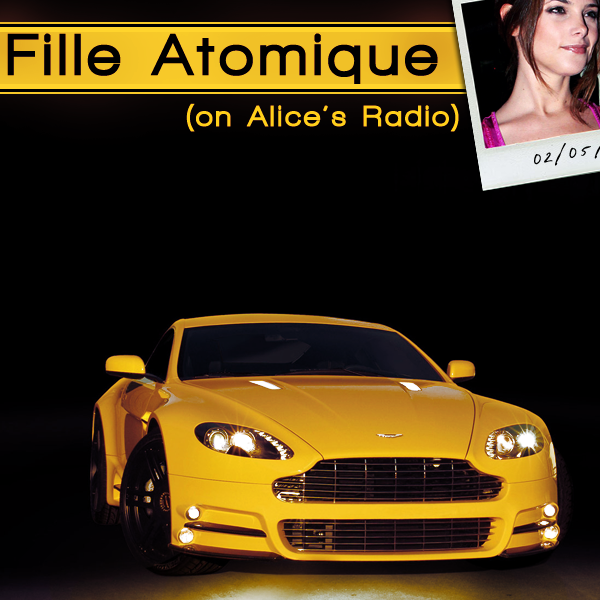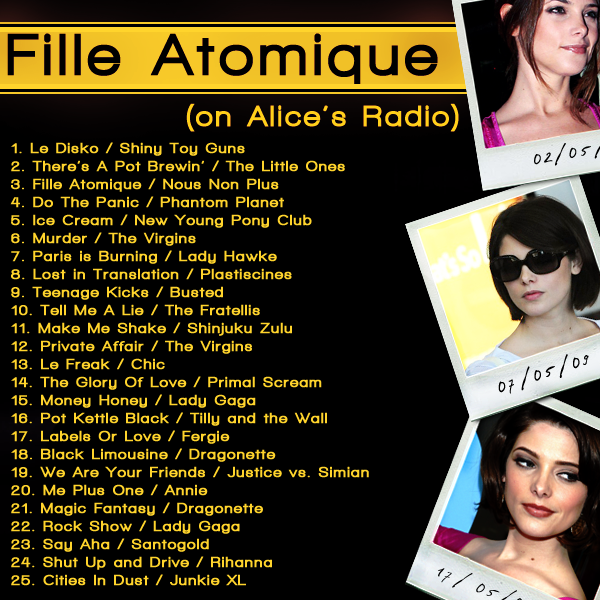 1. Le Disko / Shiny Toy Guns :

"We're gonna ride the race cars
We're gonna dance on fire
We're the girls in Le Disko
Supersonic overdrive"

2. There's A Pot Brewin' / The Little Ones : Just the right song for someone who sees the future...

"There's a pot a brewin'
A beat up cup for filling
And now the papers sayin
That the polls are shifting"

3. Fille Atomique / Nous Non Plus : Alice is not that sort of girl at all, but this is just the kind of song she would be listening to for fun.

"Moi j'ai plus d'un tour dans mon sac
Je suis toujours prête à l'attaque
Si tu fais pas gaffe, watch your back
Je vais te mettre le cœur en vrac"

4. Do The Panic / Phantom Planet : Would remind Alice of when they had to kill James. Hence the "survived a severed head".

"I guess we're all in trouble, huh?

Black clouds are upon us

And it's doomsday on the other side of town

That boy survived a severed head

When most would just give up for dead"

5. Ice Cream / New Young Pony Club : Alice feeling sexy... And I've also heard this at quite a few fashion shows.

"I can give you what you want.
I can make your heart beat short.
I can make you ice cream
We could be a sweet team
Melting in your vice dreams, sport.

6. Murder / The Virgins : Alice trying to understand Jasper & Maria's past relationship. Maybe.

"She cast the death on your plans
Chances on everything
You take your life in your hands

Wow murder the way she likes
Murder feels like
Murder the way she likes
Murder feels like "

7. Paris is Burning / Ladyhawke :

"My heart is yearning, but Paris is burning.
Paris is burning all night long.
My heart is dreaming, but Paris is screaming.
Paris is screaming all night long."

8. Lost in Translation / Plastiscines : Would remind Alice of when she first woke up in the Asylum and feeling lost.

"Where I was
I don't know
Maybe lost in illusions
Where I am
Oh I should know
I am Lost in Translation"

9. Teenage Kicks / Busted : Ok, don't kill me. This version is simply better for blasting out of a car, and I don't think that Alice would be a music snob.

"Are teenage dreams so hard to beat

Everytime she walks down the street

Another girl in the neighbourhood

Wish she was mine, she looks so good


I wanna hold her wanna hold her tight

Get teenage kicks right through the night"

10. Tell Me A Lie / The Fratellis :

"Well once I was persuaded to open up my head
I told them how it was and went and got it wrong instead
I said would you believe me if you only knew
I'd been stealing everything this conversations through"

11. Make Me Shake / Shinjuku Zulu :

"We pull, we push
We pull and we push push
Go bangin
Gimme some crush
Badness is good stuff"

12. Private Affair / The Virgins :

"But she's always avoiding falling in love
Yes, it's due to a life of a private affair
She's always avoiding falling in love
Yes, it's due to a life of a private affair"

13. Le Freak / Chic : Alice is more accepting of being a vampire than the rest of her family (apart from Emmett) and this would so be her anthem!

"All that pressure got you down

Has your head spinning all around

Feel the rhythm, check the ride

Come on along and have a real good time

Like the days of stopping at the Savoy

Now we freak, oh what a joy

Just come on down, two fifty four

Find a spot out on the floor"

14. The Glory Of Love / Primal Scream :

"It never works
That's what they say
A million fools have tried it and failed
Why do we hurt each other so much
Chasing the glory
The glory of love"

15. Money Honey / Lady Gaga :

"Damn, I love the jam, the jet and the mansion. (Oh yeah)
And I enjoy the gifts and the trips to the islands.(Oh yeah)
Its good to live expensive
You know it, but my knees get weak intensive
When you give me k-kisses

Thats money honey,
Well I'm your lover and your mistress
Thats money honey
When you touch me, its so delicious
Thats money honey
Baby when you tell me the pieces
Thats money honey "

16. Pot Kettle Black / Tilly and the Wall :

"I bet you think we didn't know

Didn't even see the tides change

But it's a small, small world, girl
Getting even smaller every day

"

17. Labels Or Love / Fergie : A shopaholic's anthem.

"Gucci, Fendi, Prada purses, purchasing them finer things
Men they come a dime a dozen, just give me them diamond rings
I'm into a lot of bling, Cadillac, Chanel and Coach
Fellas boast but they can't really handle my female approach
Buying things is hard to say
Rocking Christian Audigier, Manolo, Polo, taking photos in my Cartier
So we can't go all the way, I know you might hate it but
I'm a shop for labels while them ladies lay and wait for love"

18. Black Limousine / Dragonette :

"A woman with taste and a girl with true ambition
But I would really love the two of us to talk
And I got in a black limousine
And I don't care much for the money, but you spend it on me
In the back of your black limousine
We got the time for a little bit of luxury
You're paying for my company, babe
When you're paying for my company, hey
When you're paying for my company, hey "

19. We Are Your Friends / Justice v. Simian :

"Because we are your friends
You'll never be alone again (x8)
Ooh... come on! (x4)"

20. Me Plus One / Annie :

"So the fun won't start 'til she's living it up
feeling good on top of the pops
when you make it me plus one
Dress falls down at the aftershow
She breaks down on the video
Think you'll find it's me plus one"

21. Magic Fantasy / Dragonette : Yep, so Rosalie is 'Addicted To Bass' (she must be if she loves Emmett and his voice/laugh), and Alice is addicted to Electro.

"The kids got the radio blasting
I'm on the sidewalk sweating
The girls know how to move to the music
I wanna get
Into it

And it's getting hot in the city
Everyone's wet and sticky
I don't mind the heat when the beat
Is getting me
On my feet

Magic fantastical
Total electrical
My boy's on the cord with a Popsicle
Total electrical"

22. Rock Show / Lady Gaga :

"It could have been love
It could have been anybody
Anybody, uh-oh
She waited for love
But there wasn't anybody
Around so she left
Town with the rock show"

23. Say Aha / Santogold :

"At night it's eating up your head,
Backed against the wall
Got you in a tight place
Though you're not alone at all
Been fighting, trying to place a name on what it's called
Make you feel like a losing streak cuz you know
But you're not involved"

24. Shut Up and Drive / Rihanna :

"Got you where you wanna go if you know what i mean
Got a ride that smoother than a limosine
Can you handle the curves? Can you run all the lights?
If you can baby boy then we can go all night"

25. Cities In Dust / Junkie XL :

"We found you hiding
We found you lying
Choking on the dirt and sand
Your former glories
And all the stories
Dragged and washed with eager hands

Oh, all your cities lie in dust
Yeah!
Oh, all your cities lie in dust
Oh, all your cities lie in dust
Yeah!"






.ZIP



Credit: car photo by Allen Qu at flickr.com .