This is Part Four of a series of fanmixes of what would be on the Cullens' radios/playlists.
Without a doubt, my version of Esme is her being sultry, sexy and soulful. She also has plenty of self-doubt, and isn't sure about how healthy her state of mind is. Since she's been with Carlisle, she's been much healthier and happier, but for anyone who has ever had suicidal thoughts would know, that the self-doubt never truly goes away. However, these songs aren't about depression at all, they're more about Esme's outlook on life now.
[1 fanmix -26 songs]
Preview: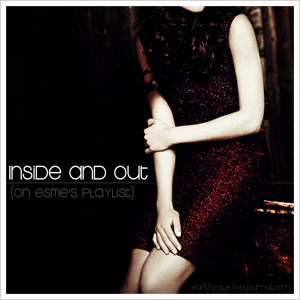 .ZIP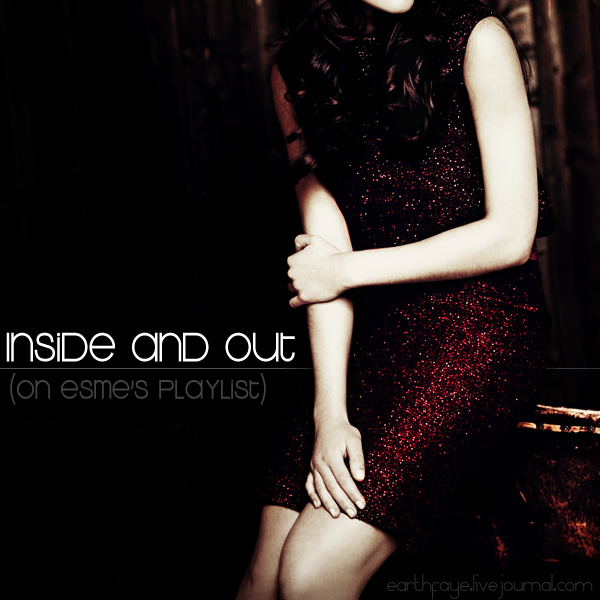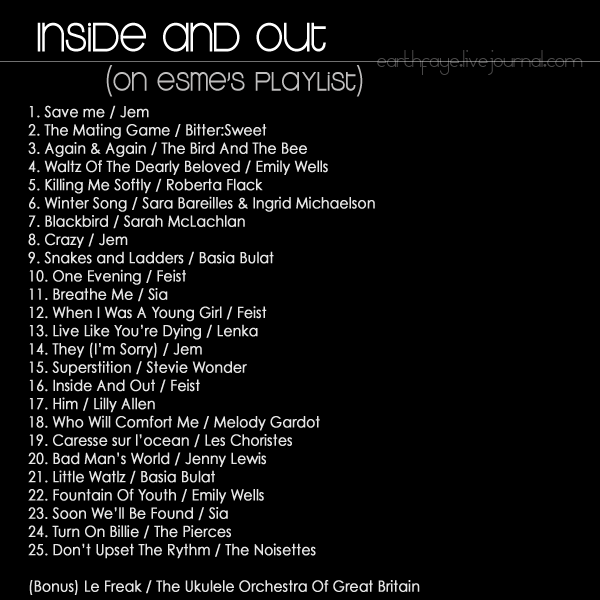 1. Save Me/ Jem :

"And none of these
Thoughts are real
So why is it that I feel
So cut up and so bad
I need to take control
Coz my mind is on a roll
And it isn't listening to me

Save me ah ah save me ah ah
Save me ah wooh
(thinking and thinking)
Save me ah ah save me ah ah
Save me ah wooh
(thinking and thinking)"

2. The Mating Game / Bitter:Sweet :

"Hold me close enough to drink my rose
The devil in my pocket turned to gold
Sorry to warn you, you're in a daze
Tonight I'll love you, but tomorrow go away

Step right up who's the next contestant
In this sweet charade? "

3. Again & Again / The Bird And The Bee :

"It's a shame, it's a shame
It's a perfect shame
Creep under my door and we do it again, oh

It's easy and easy and easy and easy
And creepy and creepy and creepy, oh
Again, again, again, again

Again and again and again
Do it again
Do it again"

4. Waltz Of The Dearly Beloved / Emily Wells :

"I corner you in the bedroom

I find you at the sink

I picture you in the morning

I reach for you in my sleep

I was in love, with the sky it's like a drug

I was in love, with my window at twilight"

5. Killing Me Softly /Roberta Flack :

"I heard he sang a good song, I heard he had a style.
And so I came to see him to listen for a while.
And there he was this young boy, a stranger to my eyes.

Strumming my pain with his fingers,
Singing my life with his words,
Killing me softly with his song,
Killing me softly with his song,
Telling my whole life with his words,
Killing me softly with his song ... "

6. Winter Song / Sara Bareilles & Ingrid Michaelson :

"My voice; a beacon in the night.
My words will be your light,
to carry you to me.

Is love alive?
Is love alive? "

7. Blackbird / Sarah McLachlan :

"Blackbird singing in the dead of night
Take these broken wings and learn to fly
All your life
You were only waiting for this moment to arise"

8. Crazy / Jem : Leaving her (previous) husband.

"I've got brains, and,

A hot attitude
I'm not stupid,

I leave that to you

Don't think you counted on me being strong

But I'm calling time now,

You just run along

I'm too perceptive,

I'm too perceptive

Boy, I'm not that kind of girl

Go find another,

Go sleep with another

Go sleep with another
"

9. Snakes and Ladders / Basia Bulat :

"So we play a game of snakes and ladders,
gambled our mistakes, didn't know what could come after.
Threw away the cards. Who thinks it could matter?
Oh, who believes in fate anyway?

When only you could be the one
to win out over me,
when it isn't just a game. It's the way we come undone.
What a perfect taxi town. How we dance around and,
oh oh, like we didn't even notice, oh oh oh.
I love the way we come undone."

10. One Evening / Feist :

"We were caught by the light
Held on to the day till it became ours
The minutes went by, the cab is outside
There's no time to take"

11. Breathe Me / Sia :

"Help, I have done it again
I have been here many times before
Hurt myself again today
And, the worst part is there's no-one else to blame

Be my friend
Hold me, wrap me up
Unfold me
I am small
and needy
Warm me up
And breathe me"

12. When I Was A Young Girl / Feist :

"Please send for the preacher to come and pray for me
And send for the doctor to heal all my wounds
My poor head is aching my sad heart is breaking
My body salve-aided and I'm bound to die"

13. Live Like You're Dying / Lenka :

"One of these days you'll be
under the covers you'll be
under the table and you'll realize
all of your days are numbered;
all of them one to one hundred.
All of them millions.
All of them trillions.
So what are you gonna do with them all?"

14. They (I'm Sorry) / Jem : Undertones of the Volturi.

"And who are they
And where are they
And how can they
know all this
And I'm sorry so sorry
I'm sorry we do this "

15. Superstition / Stevie Wonder :

"When you believe in things
That you don't understand,
Then you suffer,
Superstition ain't the way,
No, no, no"

16. Inside And Out / Feist :

"You treat me like a vision in the night
Someone there to stand behind you
When your world ain't working right
I ain't no vision, I'm the girl
who loves you inside and out
Backwards and forwards with my heart hanging out
I love no other way
What are we gonna do if we lose that fire?"

17. Him / Lilly Allen :

"Would you please take me away from this place
I cannot bear to see the look upon your faces
And if there is some kind of god do you think he's pleased
When he looks down on us I wonder what he sees
Do you think he'd think the things we do are a waste of time
Maybe he'd think we are getting on just fine"

18. Who Will Comfort Me / Melody Gardot :

"Gotta hold of my heart
Keeps me bound where the whole wide world is free yeh
Oh Lord who will comfort me?"

19. Caresse sur l'ocean / Les Choristes :

"Air éphémère de l'hiver
Enfin ton souffle s'éloigne
Loin dans les montagnes
Vire au vent tournoie déploie tes ailes
Dans l'aube grise du levant
Trouve un chemin vers l'arc-en-ciel
Se découvrira le printemps
Calme sur l'océan."

20. Bad Man's World / Jenny Lewis :

"When I found you
You were a shade of blue
Success is a state of mind
With a little bit of follow through
And then you failed at that, too
It's a bad man's world
It's a bad man's world
I'm a bad, bad girl
It's a bad man's world"

21. Little Waltz / Basia Bulat :

"I know I tried, but it's hard sometimes
the roots don't take, it takes a while
and you pull at the strings
but they're broken, it seems
the dance isn't over for me, no

my love,
I know I was wrong, but you know that you'll always be
my love
stay for a while while our leaves are still green
please, for me "

22. Fountain Of Youth / Emily Wells :

"Had I been awake, all of that time

Big red line across your soul

blood running out like a funeral

I've seen the look of your eyes,

How can I soothe?

blood running out

like a fountain of youth"

23. Soon We'll Be Found / Sia :

"So come along, it wont be long
'Til we return happy
Shut your eyes, there are no lies
In this world we call sleep
Let's desert this day of hurt
Tomorrow we'll be free"

24. Turn On Billie / The Pierces :

"When I woke up this afternoon
I know I felt… uneasy
But no matter what I do
Nothing seemed to please me
I couldn't get out of my head
That little fight we had… last night
But I would much rather be dead
Than admit to myself… that you were right"

25. Don't Upset The Rhythm / The Noisettes :

"You know we won't compromise
So let me show you
Something super beautiful
Lets rock the boat
The magic is unstoppable !"

26. Le Freak / The Ukulele Orchestra Of Great Britain :

"All that pressure got you down

Has your head spinning all around

Feel the rhythm, check the ride

Come on along and have a real good time

Like the days of stopping at the Savoy

Now we freak, oh what a joy

Just come on down, two fifty four

Find a spot out on the floor"




.ZIP



Credit: photo by d3nde at deviantart.com .